Triad Speakers – A review of our experience
February 09, 2015

The World of Triad Loudspeakers
The premium speaker world is a busy place, with smaller manufacturers dedicating their resources to producing precision audio equipment in limited batches–but there are few manufacturers out there who have taken the path of Triad Speakers. Based out of Portland, Oregon, Triad has been in business since 1982, and have become well-known as the premier manufacturers of a completely custom lineup of in-room, in-ceiling, in-wall, and on-wall loudspeakers.
Triad is a go-to brand for us for a number of reasons, from product inception to end-of-the-road service. We're going to break it down for you point by point.
Triad Speakers are made in North America
We're a Canadian company, but it still gives us pause when a product is designed, sourced, manufactured, and serviced here in North America. The Triad facility in Portland, Oregon starts with designers and engineers evaluating their options, then passing their finished creations on to the manufacturing team. They spend time testing every Triad speaker in-house before it ships, which leads to legendary reliability in the field. We've been ordering Triad custom speakers for some time now and we have yet to have a speaker fail in the field. It's almost unheard of.
A focus on materials
Many speakers begin with particleboard at their heart, and it's not hard to see why. It does the job, it's cheap, and it's almost necessary when manufacturing in larger quantities. Triad has decided to go in a different direction, saying that their speakers are "made fresh daily"; they don't carry inventory because every model is made to order. That means that using MDF, something they bill as "the most uniform and inert cabinet material. It's a testament to their success that they've been able to create and run a just-in-time business model devoted to loudspeakers. MDF is where it starts, but not where it ends; everything from the type of paint used through to the brass fittings in place of wood screws makes Triad stand out. This is what happens when you have a brand that decides not to cut corners.
Triad Speakers and customizability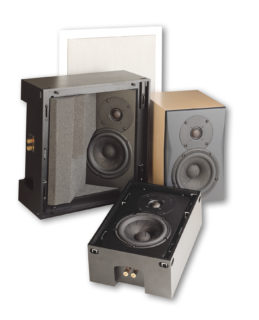 This one's key for us: finding a speaker that matches a client's design intentions–or in some cases, the design intention of an interior designer who really doesn't want audio interrupting a space that they've worked countless hours to perfect–can be almost impossible. With Triad's build-to-order approach we're able to spec out a speaker system focusing totally on the sound experience first, because we know that Triad is on-hand to craft that system.
Read that again–it sounds so casual, but for many customers it's a big deal. No matter the size or shape of where you want to put your speaker, Triad can almost always make it work. We've had some incredibly difficult-to-accommodate spaces, and each time Triad's custom manufacturing process has come through. Not just for size and shape, either; Triad offers speakers in a range of paint colours and veneers–and you have the option of submitting a swatch or a paint colour code that will be used in creating a perfectly matching system. They even include a bottle of touch-up paint in the box.
One of the most popular use-cases for customized speaker designs for us is sound bars. Triad makes an incredible sound bar–built to your specifications, of course–and each one is unique. Why are they so popular? It's not just the quality, though that's good, it's because mass-market sound bars are produced to be generic. That means that they're generally not built to fit your space OR to match your TV or display. Do you really want a 42" wide sound bar under a 78" curved display? Or a 55" bar tucked away under a beautiful 90" flat panel? With Triad you get a sound bar that matches the look and feel of your TV (or your projector screen), drawing your eye into the screen rather than being a distraction below it. In everyday use it helps your speaker disappear, which is exactly what it should do.
The word from Pure Image's Lead Installer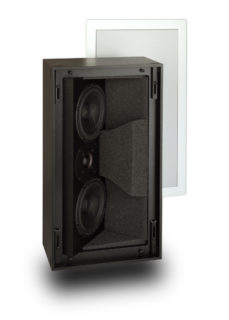 "Do you like Triad speakers?"; that's a loaded question, coming from me, but Pure Image's lead installer, Mike, handled it gracefully.
"I like Triad," was his to-the-point response. I asked him to elaborate and he continued "They're a great value. Good bang for your buck." He went on to called them a solid speaker that sound great, and while it looks good you're not paying for exotic wood finishes or embellishments that don't add to the number one thing that your speaker should be doing: sounding great.
That's a strong endorsement coming from him. His opinion resonates with what Triad has tried to convey through their marketing: this is a speaker lineup that is beautiful in a subtle way, for people focused on performance. To paraphrase Mike again: it's hard–or even impossible–to beat Triad for audio performance in the price points where they live. Accurate sound, exceptional reliability, and custom looks are a proposition that no one else is offering.
The best speaker brand you've never heard of
The consensus that we've found is that Triad is a "sleeper" brand; popular with integrators, loved by owners, but flying stealthily under the radar for everyone else. They don't engage in gimmicky marketing or kitschy ads, they just do what they've always done: make great speakers.
The experience for those of us who work with Triad to supply personalized audio to customers is seamless: you get a speaker (or a system) that that is perfect for the location, perfect for the décor, and arrives quickly after being manufactured specifically tailored to customer.
The experience for the consumer is just as seamless: you get a speaker that is built for you and your space that sounds accurate without embellishment, and offers incredible value by emphasizing performance. It's one of those equations where you look for a downside and you can't find one.
Is Triad right for everyone? No, and they'd be the first to tell you that. But they are a great choice for a lot of customers out there. You might be one of them. If you're in the Vancouver area, give us a call and we can talk about it. If Triad speakers are the right choice for you, you'd be joining a large group of satisfied customers.

Graham is a Vancouver-based technology writer and TV personality. He writes technology content for Pure Image, offering insight and education for home theatre, home automation, and commercial a/v projects.

Latest posts by Graham Williams (see all)