Sonos Wireless: What it is, and why you want it.
September 23, 2016
Sonos Wireless speakers are the most popular option in distributed audio today. Why? Because they're the definitive answer for statements like "I want music in every room" and "I want to be able to control my music easily" These are things we hear from our clients everyday, but they're also things that I've said myself. The quiet revolution of music in the home is called "distributed audio"–which makes sense, considering you're distributing audio around your home. The reasons above are all powerful arguments for distributed audio, but there are a few key things you might not have thought about that may appeal to you.
Music in every room
Let's start with music in every room. With a Sonos Wireless Speaker or a Sonos-enabled in-ceiling speaker system, the Sonos network allows you to play music in every room in your home. You can play the same music everywhere, or you can set each room up as its own zone, capable of playing unique music in each space. This lets everyone in the home enjoy the same music together, or it can allow individuals to personalize their space with their own playlist.
The impact of this can't be understated; there's something delightfully unique about being able to walk through your home to a soundtrack of your choosing, or to relax in your favourite space with a song or an album that's perfect for you. It makes music and sound as much a part of your home as the decor, or the lighting, it does it without intruding on the space.
Easy Control
The Sonos app is available for free for Android, iOS, Windows, and macOS, giving you easy access to streaming services from around the world. You can stream your own music, or choose to use Apple Music, Google Play Music, Spotify, Tidal, Deezer, or more. The flexibility of Sonos comes from being able to select your music quickly and to get it to play in the room or list of rooms you want in a simple way. With Sonos, it's one touch, making music fun and accessible for everyone in the home.
Wireless Speaker Options
The Sonos family includes a number of speakers.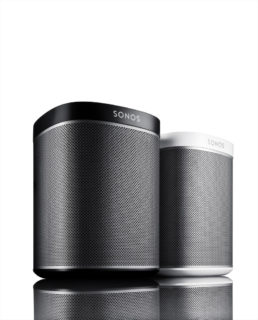 The top-of-the-line second generation Play5 is receiving rave reviews from tech critics–and for good reason. Introduced recently, the Play5 has been redesigned to include streamlined touch controls, and features 5 powerful drivers that offer incredible range and performance with strong base, firm mid-range, and clean, clear highs.
The Play3 is the optimal speaker for using in an array in a larger room. Four Play3 speakers can fill a room with sound while keeping the overall volume low, allowing you to more easily converse with friends and family.
The Play1 is a flexible speaker that's perfect for small spaces, and a pair of them make an excellent partner for the Sonos Playbar and Sonos Sub in creating a surround home theatre setup capable of wireless Dolby Digital sound.
Sonos Home Theatre
The Sonos PlayBar is a TV-based solution; it ties into your television to replace your TVs underpowered speakers–that's not a slight on your TV, there's only so much you can do in the 1.5-2.5″ of depth offered by most televisions today. It has three channels of audio built-in, creating a centre channel, and a stereo left and right channel.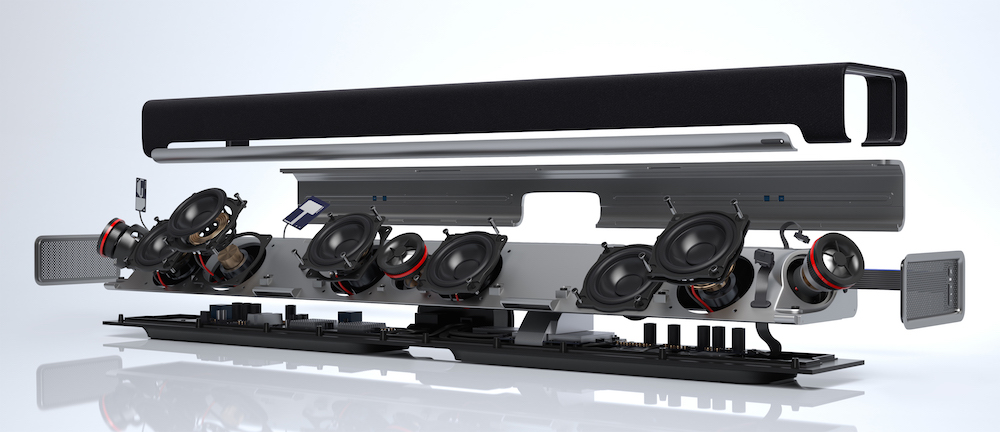 Adding Bass
The Sonos Sub provides rich, deep base for any Sonos speaker. Typically it is paired up with the Sonos PlayBar for better TV sound, but frequently it will be used with a pair of Play1, Play3, or Play5 speakers to create a system with excellent response across the entire range of sound that we can hear.
Other Options
If you're looking for a distributed audio system that you can hear but not see, Sonos is still a key component to what we do. Whether you're part of a new build, or you're retrofitting speakers, you can add Sonos to an in-wall/in-ceiling sound system, to a pair of stereo speakers in a 2-channel listening area, or to your existing home theatre to add support for music. The Sonos Connect becomes the link between your speaker systems and the Sonos network; you need one Sonos Connect per zone, and those areas immediately become selectable in your Sonos app. If your system needs amplification, you can choose the Sonos ConnectAmp, which can power large or small speakers with up to 55W per channel.
Want Sonos? Here's your next step
Whether you're looking for an individual speaker, a wireless home theatre, or an in-ceiling system, we can help. Visit our showroom at 1251 Homer St in Vancouver, or call us at 604-628-9491. We can help you design and install your new system, giving you the very best results available.

Graham is a Vancouver-based technology writer and TV personality. He writes technology content for Pure Image, offering insight and education for home theatre, home automation, and commercial a/v projects.

Latest posts by Graham Williams (see all)