From Plain to Remarkable: Combining Design, Technology, and Craftsmanship to produce a dream Living Room.
December 30, 2014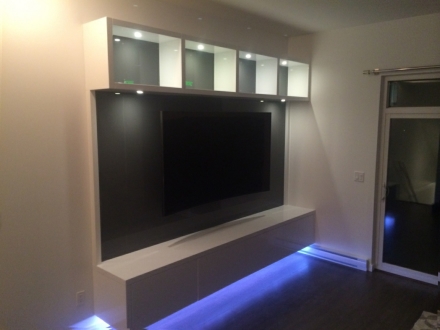 In living rooms and media spaces all across Canada the bar is set low: a plain, mass-market display mounted on a white wall. For those stepping it up a notch you might see speakers added. It's not a bad choice, but when you're looking to spend time with your entertainment system, you want more than just a picture on a wall; you want a solution that evokes your style, blending custom millwork in with your décor and elevating your home with high quality materials that add value. That's the Pure Image Difference and it's the focus of every job.
Recently a long-time client contacted us after purchasing a newly constructed luxury town home in Vancouver, BC. We've built a number of high-end media spaces for him in the past, equipping each with HDTV and immersive sound; if you've experienced a media room like that in the past you know that there's no going back. For this installation he wanted the best picture, the best sound, and an custom-built media centre that matched the established style of his new home.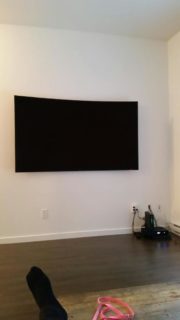 Town-homes are an increasingly frequent challenge for custom integrators like us; they're beautifully compact spaces, so in order to facilitate the delivery of amazing big picture and room-filling sound we had to do what we do best: get creative!
The first step was a review of the space, along with getting an idea of the look and feel of the style that our client was looking for. Their townhouse is appointed with a modern aesthetic; clean lines, pop art, and current fabrics in blues, greys, greens, and whites. Armed with this insight we began our planning process.
Every Pure Image installation starts with a team meeting, where our master installers brainstorm solutions and options. A number of factors are considered when we make equipment recommendations: the size of the room, the distance of each "sweet spot" location for viewing and listening. The number of viewers/listeners that will enjoy the space regularly. Special attention is also paid to the acoustics of the space, along with an analysis of audio options–that means we're looking at whether the room can support large component speakers, smaller bookshelves, in-wall options, soundbar/sound projectors, or micro-satellites. This analysis, combined with interviews with our client allows us to determine what you want from a new media space, and makes it relatively easy to narrow down the right choice for your room.
In this case, after making the distance calculations and reviewing the requirements, we decided that the ideal television was Samsung's 78″ Curved, 4K display. This is one of Samsung's premier screens for this model year, and it's stunning–both in resolution and aesthetics. Delicately curved to offer a better, more immersive viewing angle to everyone in the room, this model is large enough to service bigger home media spaces, while having a design that reduces the overall footprint of the display, making it a great choice in more intimate rooms as well.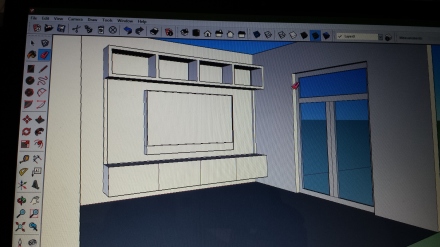 We've had a great deal of success and satisfaction with this line, installing it in both residential and commercial applications throughout the year. It supports deep colour, high contrast, and includes smart features for those who are looking for a one-stop solution for streaming. Even the remote options are stylish; there's a standard remote with all of the features you're used to, and a smaller, simplified easy-access remote that really draws on the design cues of the display.
As the client was eager to gain some ability to watch television while his home came together, we decided to temporarily install his new screen.
At that time, additional measurements and consultation was done, and we began to sketch ideas that we felt would suit the space, and the client's new equipment. As pictured, the 3D designs were created in Sketchup by the Pure Image staff, allowing the client to see exactly what he was going to get, before a single tool was lifted. Being able to visualize the solution made it simple for both our team and the client to make the small changes necessary for the best results–and yielded some insight on some smart additional features, like automated lighting and a down-cast glow for underneath the unit.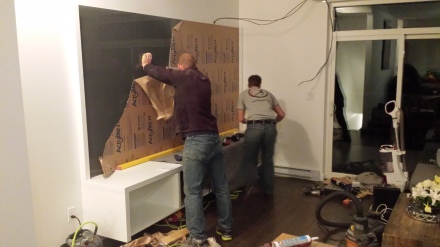 After the design was approved we worked hand-in-hand with our partners at Baarts Brothers Construction  to produce the designs to exact specifications; much of the millwork was pre-built in their studio, allowing for minimal downtime for our client thanks to a quick install process.
The Baarts team arrived to install their work, having dispatched their amazingly talented staff members Stacey and Kevin in order to ensure that the installation quality matched the vision of the client. They were able to draw on their experience building high-end custom homes, and installing millwork on yachts to deliver an installation quality that was nothing short of perfection – even with a less-than-perfectly square wall.
You can see the team here revealing a gorgeous piece of painted acrylic that serves as the backdrop for the television; the colour was chosen to match the kitchen countertops (only a few feet behind the camera), the flooring, as well as the furniture in the room.
Working with the Baarts team meant installing in stages, allowing time for adhesives to cure and giving our installers the opportunity to measure, cut, and integrate quickly. The initial stage included pre-wiring the source, followed by installing the high-end display mount.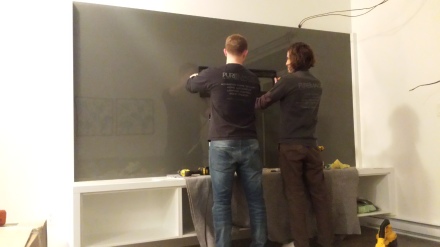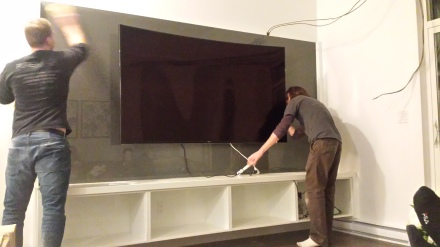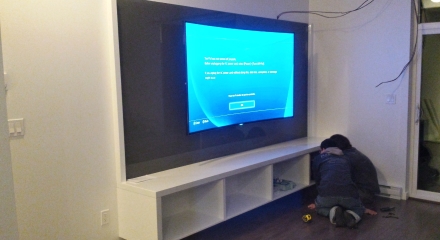 Wiring high-end HDTV/4K source, streaming boxes, and automation for the display and lighting into one space was organized by our master installer, leading to a final product that is clean, tight, and well-designed. A premium audio solution in the form of a custom-made Triad soundbar caps off the experience, adding room-filling sound to an amazing picture experience.
The Pure Image process leverages the expertise of craftsmen and artists to deliver a solution unlike any other. Well-designed,  tightly integrated, and seamlessly stylish: That's the Pure Image Difference.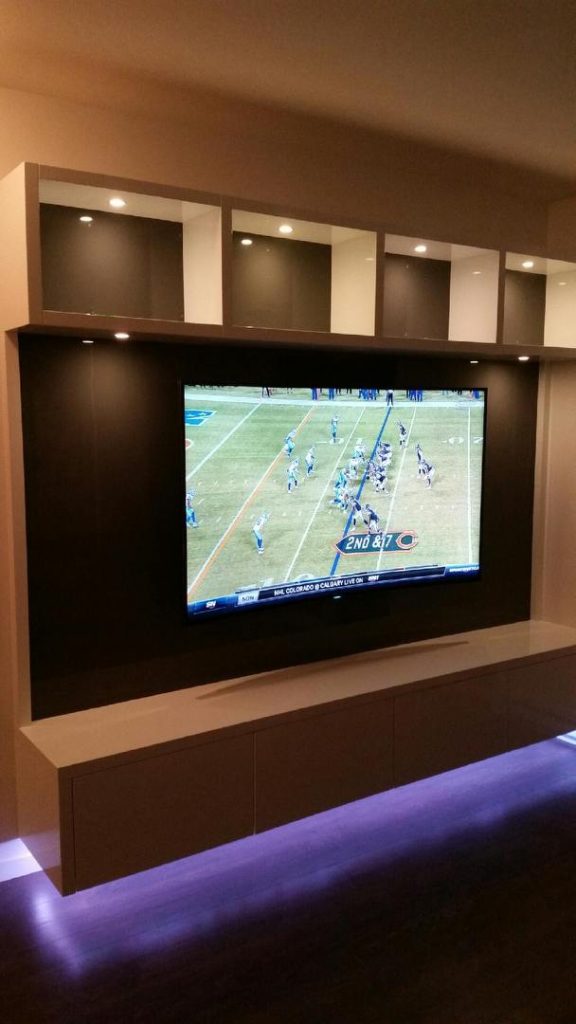 Amazing millwork, solid integration
Drew is a Vancouver-based technology expert and co-owner of Pure Image. With over 10 years of experience in home theatre installation and home integration, Drew draws from a wealth of knowledge and a passion for technology in creating his written posts.
Latest posts by Drew Galvin (see all)